Super flyweight Andrew 'The Monster' Moloney 18-0 (11) is looking forward to taking out his frustrations on Filipino southpaw Cris 'The King' Paulino 19-3 (8) when he headlines 'Thunderdome 28' at Metro City in Perth, Western Australia on December 14.
The WBA number four ranked 115-pound contender has been chasing a shot at the Panamanian sanctioning body's world champion Kal Yafai 24-0 (15) of Birmingham, England for months.
"My team has made offers to all the WBA rated fighters, including the current WBA titleholder Kal Yafai," said the undefeated Moloney, twin brother of bantamweight contender Jason Moloney.
"I really hope I get the opportunity to fight Yafai next for the world title."
Yafai is scheduled to defend his world championship against Mexican Israel Gonzalez 23-2 (10) in Monte Carlo, Monaco on November 24.
"It's disappointing to see that he is fighting a guy rated fourteenth in his next fight," continued Moloney. "Next year is looking very exciting for me and my team. I really hope I get to achieve my dream of becoming world champion. I would love to do it in Australia."
The Kingscliff-based 27-year-old is coming off a career-best performance when he dominated and stopped Panamanian former world title titleholder Luis 'El Nica' Concepcion 37-7 (26) in 10 rounds in Bendigo in September.
Last month Moloney travelled with his brother Jason to Orlando, Florida to help him finish off his preparation for his IBF bantamweight world title challenge against reigning champion Emmanuel Rodriguez 19-0 (12) in the quarterfinals of the World Boxing Super Series.
"My preparation has been great for this fight so far. I didn't have any time off after my last fight as I was straight back into the gym to help my brother prepare for his fight [against Rodriguez]," said Moloney.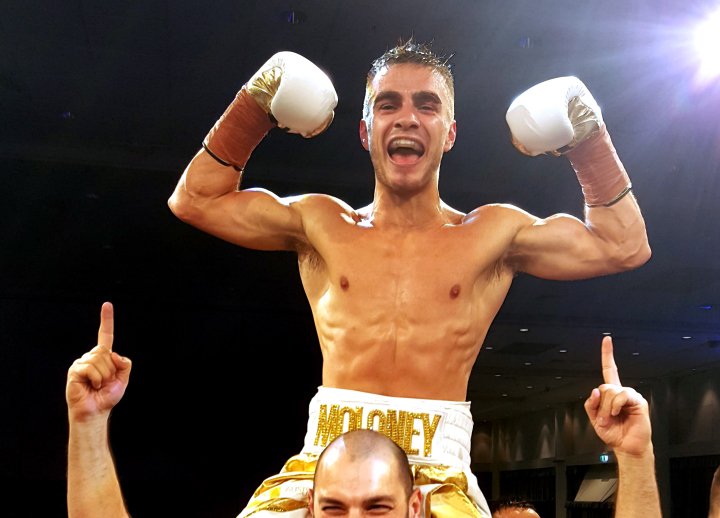 "I got some good sparring while we were over in Orlando for Jason's fight and I'm feeling great."
Moloney is looking forward to building his profile in Perth, the hometown of his manager Tony Tolj. It will be just his second fight outside of his home state of Victoria as a pro – and only his second time fighting a southpaw since turning pro four years ago.
"I'm really looking forward to it as I have fought in Perth as an amateur," said Moloney. "The last time I fought there, I had a great win over the WBC number one bantamweight contender Duke Micah from Ghana.
"We have studied my opponent Cris Paulino and we expect a very tough fight from him. It will be a good experience for me fighting against a southpaw as this is only the second southpaw I have faced in my professional career."